Defend your intellectual property rights
As intellectual property attorneys, we are capable of intervening in any dispute related to your intellectual property rights, whether it concerns patents, trademarks, designs, copyrights, software, etc.
Intellectual property rights grant a certain advantage over competitors, but they can also be a source of disputes related to their validity, their ownership or even infringement. In this case, being accompanied by intellectual property attorneys such as Brandon IP's, experts in these matters, is essential to best prepare your defense and put the odds on your side.
Prior to legal action, we often recommend to initiate an amicable process in order to move towards an agreement between the parties if they wish to (payment of compensation, signing of a license agreement, coexistence agreement, etc.). In some cases, it makes it possible to avoid a legal procedure that is usually long, costly and whose outcome sometimes remains uncertain.
Of course, we take charge of the negotiations and accompany our clients in all stages of these pre-litigation steps.
Legal actions
The main types of legal actions we handle in our areas of expertise are as follows.
Infringement lawsuit
Our experts will help you in the context of infringement suits before the courts in collaboration with specialized lawyers, whether you are infringed or accused of infringement.
If you have identified a violation of one or more of your intellectual property rights, several degrees of action are possible.
As a first step, once after the initial verifications of rights have been carried out, it is possible to contact the opposing party through a cease and desist letter. Indeed, the company concerned may not be informed of existing prior patents and IP rights and may not know that it is infringing. This first contact is often fruitful.
An infringement action can be brought in the competent court, with evidence of the infringement of IP rights (for example an infringement seizure carried out earlier, or a proof of purchase, etc.).
The court may pronounce civil and/or penal sanctions against the infringer, such as the payment of damages or the destruction of the products, or even imprisonment in the most serious cases.
Initiating an action on the ground of infringement requires a perfect knowledge of the principles of intellectual property law. It is therefore advisable to be assisted by an intellectual property law firm such as Brandon IP.
Such an action generates costs as well as delays that must be taken into consideration, so the path of negotiation can always be considered during the procedure.
More information about infringement seizure.
Invalidity proceedings
This type of actions which is quite common consists of requesting the pure and simple cancellation of the intellectual property rights of a third party.
It can be initiated either in the first instance or in a counterclaim. An invalidity proceeding can thus be combined with an infringement lawsuit, which is often the case in case law.
The grounds of the nullity proceedings vary according to the intellectual property right concerned: it is possible to plead for example the lack of novelty in the case of a patent, the lack of distinctiveness when it is a trademark-related issue, or the lack of an individual character in terms of designs, etc.
Our Intellectual Property attorneys specialized in patents, trademarks and designs are able to help you strategically throughout all these types of procedures.
Ownership claim action of patent, trademark, design
(As provided for in article L.611-8 of the French Intellectual Property Code)
This action is initiated by the creator of an invention protectable by an intellectual property right and who considers themselves deprived thereof. With this action, they claim ownership of the presumed improperly granted right by a third party.
The most frequent cases of this type of action generally oppose employees or partners to their former employers or partners.
Such claim is therefore aimed at the return of the property rights to the legitimate holder as well as the financial return related to the use of these rights.
If the action is brought when the patent application has not yet been granted, it is possible to request a suspension of the granting procedure.
Action for declaration of non-infringement
(As provided for in article L.615-9 of the French Intellectual Property Code)
This is a procedure whose purpose is for the applicant to protect themselves against any infringement action and thus secure their current and future exploitation.
In this case, it is a voluntary approach in good faith from the applicant who wishes to ensure that their current activity, or the activity they plan to launch, does not infringe an existing identified patent. It therefore ensures that it will not be exposed to possible counterfeit prosecution in the future.
The risk is to find yourself confronted with the holder of the identified prior patent and that they bring an action for infringement against you.
Our role as Intellectual Property attorneys is to advise you about the risks and chances of success of such actions according to your situation.
Intellectual Property attorneys close to you and your needs
Since 1866, Brandon IP, previously known as Blétry Frères, has been advising its clients in protecting and defending their intellectual property rights. It is one of the oldest industrial property firms in France – if not the oldest. We support companies of all sizes and project holders in securing their inventions through customized services that perfectly match their needs.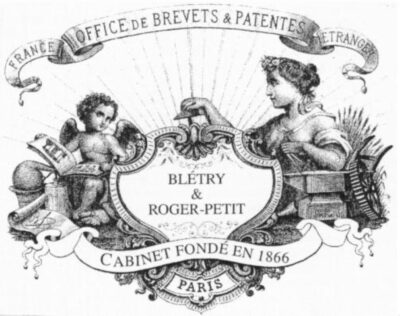 As a guarantee of our expertise, Brandon IP is ranked among the best French IP law firms by the Leaders League rating agency.
The firm is also a member of several national, European and international professional associations and relies on a large network of foreign associates worldwide.
You need advice for resolving a dispute related to intellectual property? Our teams are available to answer all your questions.
See also: