Design infringement lawsuit
BRANDON IP's intellectual property attorneys help you in infringement proceedings relating to your designs before the courts, in collaboration with specialized IP lawyers, whether you are infringed or accused of infringement.
The use by a third party of your designs, without your authorization, is an infringement and gives you the right to bring an action for infringement in order to obtain compensation for any damage you might have suffered.
Proceedings in the event of counterfeiting of a design
In France, the infringement action is governed by article L.521-1 and following of the Intellectual Property Code.
If you have found out a violation of one or more of your designs, several levels of action are possible.
The negotiation
As a first step, and after the first verifications of rights have been carried out, it is possible to contact the opposing party, often a competitor, by a cease-and-desist letter. Indeed, the latter might not be informed of your rights in good faith, and this first contact can be effective in solving the dispute.
The purpose of this approach is to make them aware of your prior rights, to explain how their use is infringing and to express first demands, such as the withdrawal of the disputed design, the discontinuation of sale of the presumed infringing products, the payment of compensation, etc. It is also possible to propose the signing of a license agreement for the use of your design in return for royalties.
Brandon IP supports you in the amicable resolution of your disputes.
Infringement lawsuit
If this procedure does not succeed, an action for infringement of design or copyright can be initiated.
This is brought before the competent court, with proof of the infringement of your rights (for example an infringement seizure carried out earlier, or a purchase statement, etc.).
The Court may impose civil and/or criminal penalties, such as the payment of damages or the destruction of the products, or even prison sentences in the most serious and rare cases.
Initiating an action for infringement of designs requires a perfect knowledge of intellectual property law. We therefore strongly recommend that you seek assistance from an IP law firm specialized in intellectual property such as Brandon IP.
It should also be kept in mind that a lawsuit generates costs and long delays which have to be taken into consideration. So, if you wish, the path of amicable negotiation can always be reconsidered during the procedure.
Brandon IP accompanies you before the Courts.
Experts in intellectual property as close as possible to you and your needs
Since 1866, Brandon IP, formerly known as Blétry Frères, has supported its clients in the protection and defense of their intellectual property rights. It is one of the oldest intellectual property firms in France. We support companies of all sizes and independent project leaders in the protection of their inventions in a fully customized way and as close as possible to their needs. As a guarantee of our expertise, Brandon IP is ranked among the best French IP law firms by Décideurs Magazine (Leaders League).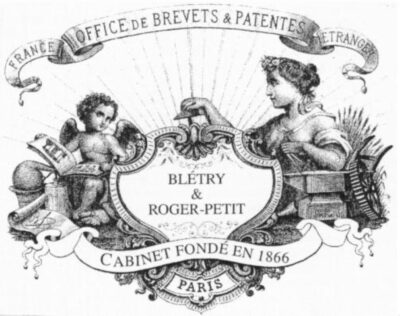 Our team dedicated to designs and models is composed of patent and trademark attorneys, paralegals and business consultants, each of them an expert in their field.
Discover our team: www.brandon-ip.com/your-contacts/
To know more about our services, please contact us.
See also: